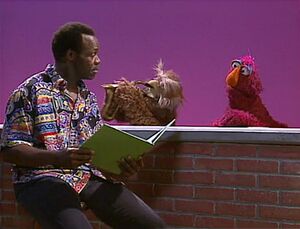 Danny Glover (b. 1946) is an Emmy nominated actor, activist, and director. Glover broke through in 1984 and 1995 with standout performances in such films as The Color Purple (with Whoopi Goldberg and Oprah Winfrey, based on Alice Walker's book of the same name, and directed by Steven Spielberg) and Silverado (with John Cleese and Kevin Kline). He is also familiar from his work in the Lethal Weapon movies and has appeared in Dreamgirls (with Beyoncé Knowles, Eddie Murphy, Jamie Foxx, and Jennifer Hudson) and The Royal Tenenbaums (with Anjelica Huston and Ben Stiller).
Glover appeared in multiple Sesame Street inserts. In a Monsterpiece Theatre spoof of Lethal Weapon 3, Glover and Mel Gibson evade a falling stone 3 (EKA: Episode 3012) In another segment, Glover reads the story "The Young Saxophone" to Telly Monster, with Hoots serving as the musical voice of the saxophone.
External links
Ad blocker interference detected!
Wikia is a free-to-use site that makes money from advertising. We have a modified experience for viewers using ad blockers

Wikia is not accessible if you've made further modifications. Remove the custom ad blocker rule(s) and the page will load as expected.