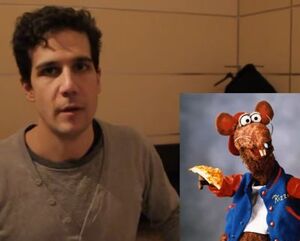 Daniele Rizzo (b. 1984) is a German comedian and actor who voiced Rizzo the Rat (Rizzo die Ratte) in the German dub of Muppets Most Wanted.
Apart from sharing a name with the rodent, Daniele Rizzo landed the part after interviewing the Muppets for his YouTube channel, where he talks to movie actors (often in costume or character), to promote Die Muppets (The Muppets). For that and one of his Muppets Most Wanted interviews, he dressed up as rat characters. The other Muppets Most Wanted video closed with footage of Daniele Rizzo recording his role as the other Rizzo. (YouTube)
Rizzo had a supporting role in the English language horror comedy Stung (2015) and has appeared on television and in short films.
External links
Ad blocker interference detected!
Wikia is a free-to-use site that makes money from advertising. We have a modified experience for viewers using ad blockers

Wikia is not accessible if you've made further modifications. Remove the custom ad blocker rule(s) and the page will load as expected.