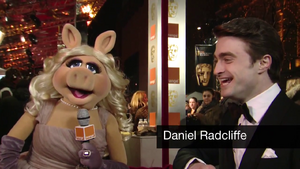 Daniel Radcliffe (b. 1989) is an English actor, famous for playing the title character in the Harry Potter film series.
At the 2012 BAFTA Awards, he talked with Miss Piggy on her red carpet show for Orange Film.
Just a few days earlier, Radcliffe recorded a message of admiration for Kermit the Frog, which was broadcast when the frog was out to promote The Muppets, guesting on British morning show Daybreak. (YouTube)
Ad blocker interference detected!
Wikia is a free-to-use site that makes money from advertising. We have a modified experience for viewers using ad blockers

Wikia is not accessible if you've made further modifications. Remove the custom ad blocker rule(s) and the page will load as expected.