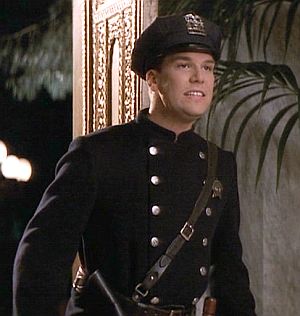 Dane Cook (b. 1972) is a stand-up comedian and actor who had a bit part in the 1997 Creature Shop film Buddy, as a cop at the World's Fair.
A year later, he began appearing on Comedy Central, and gradually gained exposure on the stand-up circuit. More films followed, and in 2006, he played his first leading role in Employee of the Month with co-star Jessica Simpson.
Other credits include hosting Saturday Night Live twice, voicing Sav McCauley on Crank Yankers, and lending his voice to Farce of the Penguins, Duck Dodgers, and Disney's Planes movies.
External Links
Ad blocker interference detected!
Wikia is a free-to-use site that makes money from advertising. We have a modified experience for viewers using ad blockers

Wikia is not accessible if you've made further modifications. Remove the custom ad blocker rule(s) and the page will load as expected.