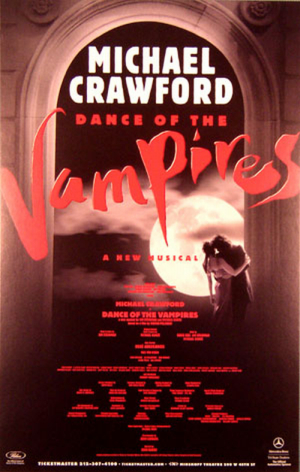 Dance of the Vampires was a Broadway musical adaptation of Roman Polanski's 1967 Dracula spoof Fearless Vampire Killers. The show starred Michael Crawford, Mandy Gonzales, and Rene Auberjonois. While the musical had enjoyed success in a more "serious" version in Austria, the more comic Broadway version flopped, running from December 9, 2002 until January 25, 2003. Jim Henson's Creature Shop supplied an animatronic bat for the production.
Ad blocker interference detected!
Wikia is a free-to-use site that makes money from advertising. We have a modified experience for viewers using ad blockers

Wikia is not accessible if you've made further modifications. Remove the custom ad blocker rule(s) and the page will load as expected.