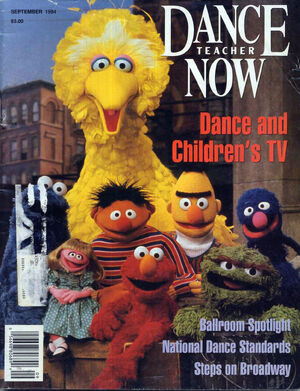 Dance Teacher Now is a magazine devoted to dance founded in 1979. It is renamed as Dance Teacher Magazine.
The cover story of September 1994 issue was titled, "Dance and Children's TV," and featured the Sesame Street Characters on the cover of the magazine. The article reflects on how dance is incorporated in Sesame Street's 25th Season to present the material to preschoolers. Annette Calud and Bryant Young were interviewed for the article.
The article also talk about other children shows that include dance materials in their show such as Reading Rainbow and The Mickey Mouse Club
External link
Ad blocker interference detected!
Wikia is a free-to-use site that makes money from advertising. We have a modified experience for viewers using ad blockers

Wikia is not accessible if you've made further modifications. Remove the custom ad blocker rule(s) and the page will load as expected.