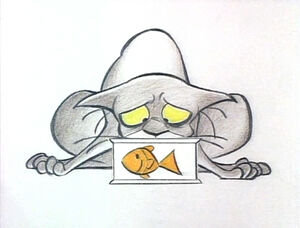 Dan Haskett is an animator in television and feature animation, based primarily out of the West Coast. He worked on various Sesame Street inserts at Broadcast Arts in New York, notably animating and directing "Cat's Can" (EKA: Episode 2424), a linear, shaded cel-animated short about a frustrated feline waiting for his talkative owner to open the catfood.
Haskett's other credits include work on the Joe Raposo-scored feature Raggedy Ann and Andy, designing Minerva Mink for Animaniacs, original designs for Moe Szyslak and Barney Gumble for The Simpsons, work on such Disney features as Beauty and the Beast and The Little Mermaid, sequences on The Chipmunk Adventure, and design work on Pixar's Toy Story.
Ad blocker interference detected!
Wikia is a free-to-use site that makes money from advertising. We have a modified experience for viewers using ad blockers

Wikia is not accessible if you've made further modifications. Remove the custom ad blocker rule(s) and the page will load as expected.