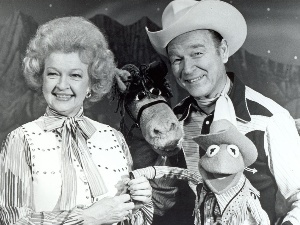 Dale Evans (1912-2001) was a singer and actress of B-movie westerns. Nicknamed "Queen of the West." Married to Roy Rogers from 1947 until his death in 1998. They were both guests on episode 322 of The Muppet Show.
She was also a songwriter. Two of her most famous songs are "Happy Trails" and "The Bible Tells Me So."
She performed "Happy Trails" with Rogers on The Muppet Show.
They hosted their own TV series on CBS from 1951-64.
They gave one of their last public performances together on the 1992 CBS-TV special Holiday Greetings from The Ed Sullivan Show, which also featured the Muppets.
Evans died on February 7, 2001.
External links
Ad blocker interference detected!
Wikia is a free-to-use site that makes money from advertising. We have a modified experience for viewers using ad blockers

Wikia is not accessible if you've made further modifications. Remove the custom ad blocker rule(s) and the page will load as expected.