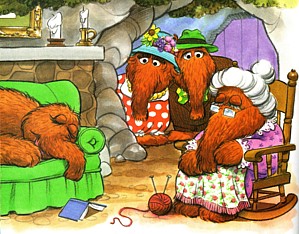 Daddy Snuffle is the husband of Mommy Snuffleupagus and the father of two children, Mr. Snuffleupagus and Alice. He lives at 456 Snuffle Circle.
In 1992, the producers of Sesame Street tested an episode called "Snuffy's Parents Get a Divorce". After a series of arguments, Daddy Snuffle moved out of the cave, and Snuffy and Alice had to deal with the emotional fallout of a breakup. The episode didn't test well with children, and the producers decided to shelve it. In the context of the show, Mommy and Daddy Snuffleupagus are still married. A single screenshot from the episode that can be seen in 40 Years of Life on the Street is all that is left of the episode.
According to the book, Daddy Snuffle's puppet was the Snuffy puppet, with no changes or alterations. The two were never in a scene together.
Book Appearances