DC Comics is one of the major publishing companies producing comic book properties today. Founded in 1934, the company owns a number of popular characters whose stories have been translated to many media outlets including magazines, television and motion pictures.
Batman, Superman and Wonder Woman are the company's flagship characters; their other characters include Supergirl, Green Lantern, and Captain Marvel.
Influence
"

I've always been interested in comic books as an art form, and when I was younger I was addicted to them. I read Superman and Superboy, but Captain Marvel was probably my favorite of the super-heroes. The comic I loved best, though, was Pogo. After all, Kermit's beginnings were in a swamp, too.

"


—Jim Henson, Creator of The Muppets[1]
Muppet Mentions
Visual Mentions
Verbal Mentions
DC's Legends of Tomorrow
In the first season episode "White Knights", Sara Lance (White Canary) says "Everything would have been fine, if Big Bird over here haven't freaked out" referring to Kendra (Hawkgirl) that panicked during a mission to break into the Pentagon.
In the third season episode "Phone Home", the team are preparing to go out in 1988 when Zari asks how she looks, Jefferson Jackson (Firestorm) replies "Honestly? Like you are being strangled by a Muppet".
In the third season behind the scenes Youtube video, "Inside: Beebo The God Of War", Phil Klemmer (Executive Producer) says that "..Beebo who is this talking little sort of puppet, like a Tickle Me Elmo."
References
Verbal references
Trivia
Geoff Johns, who has referenced the Muppets in several of his scripts for DC Comics, including a recurring reference in several issues of Green Lantern, features in a video promoting "The 2014 Celebrity Pet Adoption Calendar from Anne and Wil Wheaton". In his home, Johns has an Animal collectible plate on display behind him. (YouTube)
Connections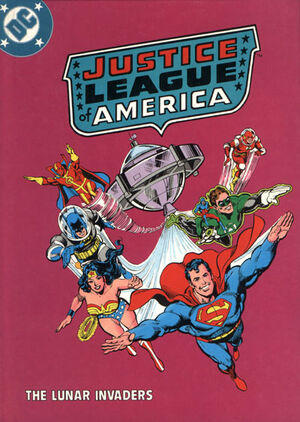 Famed comic book illustrator Alex Ross, having been first exposed to the institution of a superhero by Super Grover in his childhood, painted a lavish cover for the box of Palisades Toys' Super Grover Action Figure which was later released commercially as a poster print.
The 1982 book and audio set, Justice League of America: The Lunar Invaders was directed and produced by Christopher Cerf. As such, a large number of Sesame Street employees are also featured as characters and worked as crew on the project.
The 2001 Cartoon Network animated series Justice League (and its retitled version, Justice League Unlimited) again featured many actors who had also worked on Muppet/Henson productions.
The 2008 direct-to-DVD animated feature based on Darwyn Cooke's graphic novel The New Frontier featured the following connections:
Other cast connections:
Other connections come from the print division or across multiple media:
Sources
↑ Fifty Who Made DC Great, 1985
↑ Confirmed by Art Baltazar by email via Scott Hanson
External Links
Ad blocker interference detected!
Wikia is a free-to-use site that makes money from advertising. We have a modified experience for viewers using ad blockers

Wikia is not accessible if you've made further modifications. Remove the custom ad blocker rule(s) and the page will load as expected.