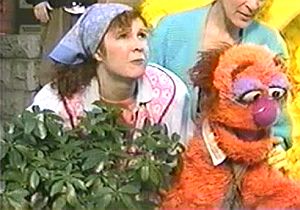 Cynthia Darlow (b. 1949) is an actress who was part of the ensemble cast on the CTW series Square One TV, notably as Judge Sandra Day O'Crater in "Mathcourt" segments. She appeared in the 1990 video Sesame Street Home Video Visits the Firehouse, as Marge, a woman whose house is on fire and whose boarder Mr. Monster has to be evacuated.
Prior to her TV debut on Square One, Darlow performed on and off-Broadway, substituting as Jan in the original run of Grease. Later stage credits include Prelude to a Kiss, Rumors, Taller Than a Dwarf, and Trouble in Paradise. In television, she has made 9 appearances to date in three of the different Law & Order series, and guest starred on Soul Man and The Sopranos. Film credits include The Thomas Crown Affair (as Pierce Brosnan's secretary), Lost Souls (with John Hurt and Elias Koteas, as "Directionless Woman), and 25th Hour.
External links
Ad blocker interference detected!
Wikia is a free-to-use site that makes money from advertising. We have a modified experience for viewers using ad blockers

Wikia is not accessible if you've made further modifications. Remove the custom ad blocker rule(s) and the page will load as expected.