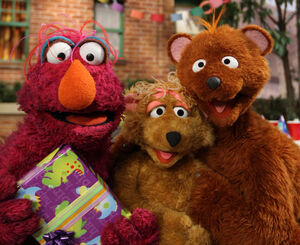 Curly Bear is Baby Bear's baby sister on Sesame Street.
When she was introduced as an infant in Season 34, Baby Bear had to adjust to no longer being the "baby" of the family. Currently a toddler, Curly is fond of her big brother, whom she calls "Bebo." Unlike Baby Bear, Papa Bear, and Mama Bear, Curly does not like porridge and Curly can growl louder than Baby Bear. Her birthday is May 9.
The episodes containing the story of Curly Bear's birth were collected on home video in Three Bears and a New Baby. In the DVD Elmo's Potty Time, it is revealed that she is in the process of being toilet-trained.
Featured episodes
Book appearances
Ad blocker interference detected!
Wikia is a free-to-use site that makes money from advertising. We have a modified experience for viewers using ad blockers

Wikia is not accessible if you've made further modifications. Remove the custom ad blocker rule(s) and the page will load as expected.