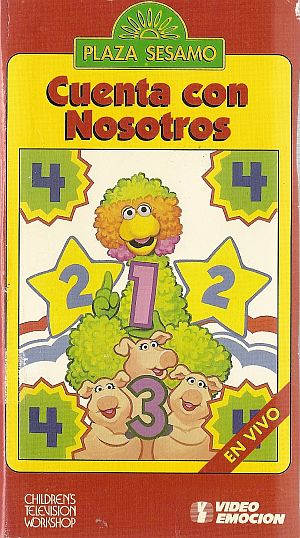 | | |
| --- | --- |
| Release Date | 1993 |
| Produced by | Video Emocion |
| Catalogue no. | VE5073 |
| Format | VHS |
| ASIN | |
In this 1993 Plaza Sésamo video, Bodoque and Montoya visit a kids' soccer game, and use the kids and balls to help Montoya learn to count.
Segments
Cartoon: Two headlights, eyes, schoolbooks, pies...
Anything Muppets: Goldilocks helps the Three Bears figure out how many bears live at their house.
Animation: 4 Dots (4-1)
Anything Muppets cheer for the number four.
Cartoon: 4 motorcycle-riding chickens burst out of an egg.
Ernie and Bert: Ernie confuses the number four for a pie. (Part 2)
Cartoon: Donnie Budd sings "Country #5"
"Beep" (edited)
Sesame Street News Flash: Kermit interviews the five little piggies.
Film: A rock music instrumental involving six marbles popping up onto the screen. (edited)
Film: six children slide down a slide.
Count von Count: The Count counts the number of times the Countess rejects his marraige proposal. (opening dialogue edited out)
Cartoon: A man blows 7 bubbles.
Count von Count: The Count recites a poem about the numbers one through ten.
Cartoon: Tommy Truehart introduces his eleven lions.
Plaza Sesamo cartoon: An elderly man goes to a carnival and meets groups of monsters and ghouls.
Anything Muppets sing and count the floors their elevator passes.
Cartoon: The numbers 1-20 hop into a rowboat.