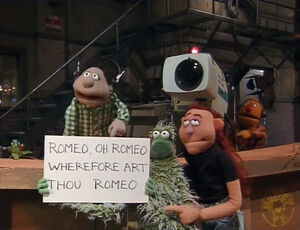 A small, green monster with long arms is the cue card holder for the series, Muppets Tonight. He's first seen during the opening theme song with some cue cards as Jowls passes by whistling.
He then appeared in episode 102, holding the cue cards for Garth Brooks and Miss Piggy's performance of Romeo and Juliet. He later appeared in episode 206, holding up a large card with the one word Clifford uses to describe the show - SUPAMAGIMARVELMAGNITERIEIBRILLCOOLWITY; the long sign causes the monster to collapse under its weight. Soon after, he's one of the many causalities of Gonzo's interpretation of the "1812 Overture," getting hit by one of The Refined Young Cannonballs. In episode 210, he assists Gonzo prior to his sketch with the American Gladiators.
The monster made an appearance a decade later as part of the Muppet factory crew in a 2015 advertisement for Warburtons' Giant Crumpets, and in 2016 as part of an a capella version of The Muppet Show Theme. He then appeared in 2017 at The Muppets Take the Bowl as a clown, ruining Wayne and Wanda's performance of "Send in the Clowns."
See also
Ad blocker interference detected!
Wikia is a free-to-use site that makes money from advertising. We have a modified experience for viewers using ad blockers

Wikia is not accessible if you've made further modifications. Remove the custom ad blocker rule(s) and the page will load as expected.