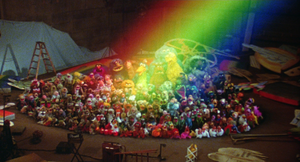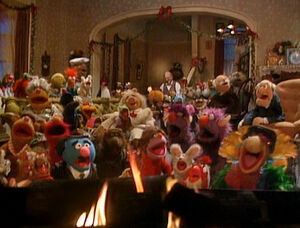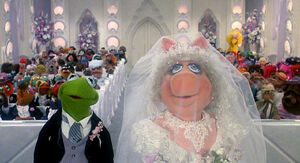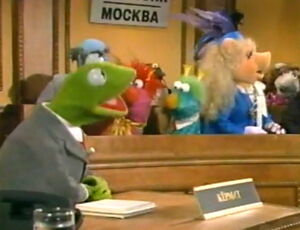 Fictional worlds crossing over.
Henson/Muppet productions
Numerous Sesame Street characters appear in Episode 518 of The Muppet Show.
Big Bird has a cameo appearance in The Muppet Movie; also, several dozens of Sesame Street characters appear in the film's closing shot.
Several obscure characters from Fraggle Rock and The Animal Show make cameo appearances in Muppets Tonight.
Sesame Street and Muppet Show characters appear together in I Love Liberty.
Sesame Street, Muppet Show characters and Uncle Traveling Matt appear together in Night of 100 Stars.
Zoe appeared in an ad for Jim Henson's Fantastic World at the Orange County Regional History Center in 2009.
Ditz from The Christmas Toy and The Secret Life of Toys appeared in a Muppetism, entitled "Miss Piggy (le pig)", where he keeps popping up to torment Miss Piggy until she declares "the next jerk-o who touches me is gonna get it right in the kisser!"
Non-Henson/Muppet productions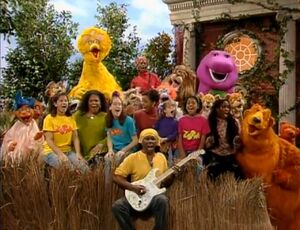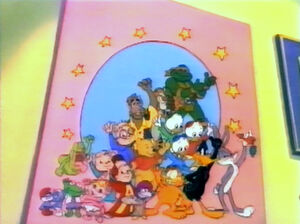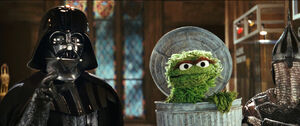 Bert and Elmo appear as celebrity guests in the "Dance with Smartypants" inserts from the second season of Between the Lions.
The cast of Sesame Street and the cast of The Electric Company appear together in the TV special Out to Lunch.
Several Muppet characters appear in The Cosby Show episode "Cliff's Nightmare."
Elmo, Grover, and Oscar the Grouch appear in the Scrubs episode "My ABCs."
See also