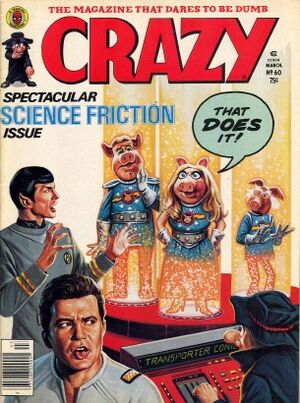 Crazy was an illustrated satire and humor magazine, published by Marvel Comics from 1973 to 1983. The comic was one of many rivals to Mad magazine.
In December 1979, the cover of issue #57 pictured Miss Piggy kissing Kermit the Frog on a rowboat, who turned into The Incredible Hulk wearing a crown on top of his head.
In March 1980, the cover of the "Spectacular Science Friction" issue pictured a crossover between the cast of Star Trek and the crew of "Pigs in Space". This cover was also used for the United Kingdom version of the magazine, Frantic, as issue #2 (April 1980).
Ad blocker interference detected!
Wikia is a free-to-use site that makes money from advertising. We have a modified experience for viewers using ad blockers

Wikia is not accessible if you've made further modifications. Remove the custom ad blocker rule(s) and the page will load as expected.