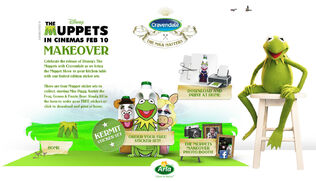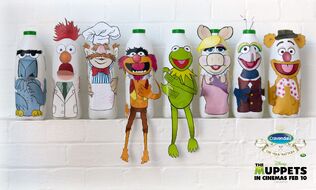 Cravendale is a milk brand produced by Swedish-Danish cooperative Arla Foods. From January 6 through February 3, 2012, Cravendale held a Muppets Makeover campaign to promote the British release of The Muppets. The campaign was developed at Outside Line, London.
The giveaway includes stickers of Kermit the Frog, Miss Piggy, Fozzie Bear, Gonzo, Animal, The Swedish Chef, Beaker and Sam the Eagle for two-liter Cravendale bottles, the Muppet Makeover Booth, spot polls, further Muppet sticker characters and goodie bags. Once the fans receive the stickers, they can upload a photo of a new creation to a dedicated Facebook application, The Muppets Makeover, which created a short, personalized that has a submitted photo interacting with different Muppets character. Each submitted photo will automatically be entered into a prize draw to win an advanced British screening of The Muppets for four people.[1] The sticker sets of Kermit, Miss Piggy, Fozzie and Gonzo were available to order from the company, while Beaker, Sam, The Swedish Chef and Animal were online exclusives.
Commercial
thumb|300px Cravendale has struck up a partnership with Disney UK to feature the Muppets in a new ad campaign. Kermit the Frog and friends appears in the milk TV ad from 6 February 2012. It will run for five weeks on TV screens and will also run in cinemas for two weeks from 10 February to coincide with the release of The Muppets movie. The ad, features the voice of Tim Curry.[2]
Gallery
Sources
External links