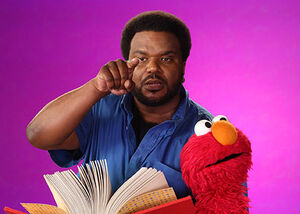 Craig Robinson (b. 1971) is an American actor and comedian, best known for his role as Darryl Philbin on the NBC series The Office. His credits also include Pineapple Express, Hot Tub Time Machine and Night at the Museum: Battle of the Smithsonian.
Robinson guest stars in Sesame Street season 45, appearing with Elmo to present "pattern" as the Word of the Day, and in a Vine video egging Elmo on to "Do it for the Vine."
Robinson also cameos as Santa Claus in the music video for "All I Need is Love" featuring the Muppets and Cee Lo Green.
Ad blocker interference detected!
Wikia is a free-to-use site that makes money from advertising. We have a modified experience for viewers using ad blockers

Wikia is not accessible if you've made further modifications. Remove the custom ad blocker rule(s) and the page will load as expected.