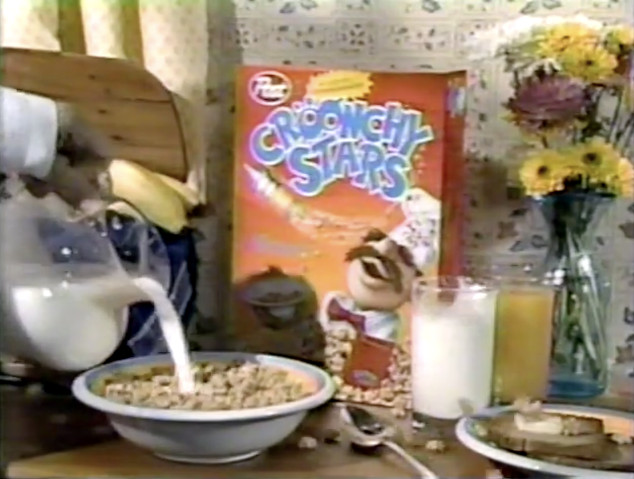 Cröonchy Stars was the Swedish Chef's breakfast cereal, distributed by the Post Cereal Company in 1988 and discontinued a year later. The product was originally going to be titled "Stoopid Flakes." The cereal box listed its ingredients on the side panel, as with most other food products, including a few exemptions: no trombones, no broccoli, no shoe trees and no wheelbarrows.[1]
Among the various premiums and promotions offered during the production of the cereal were a Swedish Chef Doll, Swedish Chef Mug , a mini flashlight, and a Crazy Recipes Card Game.
Notes
Jim Henson wrote a draft letter from The Swedish Chef to the Swedish Trade Office in response to their request for his appearance at the 1983 International Fancy Food and Confection Show in Washington.[2]
Commercials
The 30-second television spots were produced for an $8 million advertising campaign that launched September 5, 1988.[1]
Sources
↑ 1.0 1.1 New York Times "Muppet Chef Whips Up Commercials for Post" by Isadore Barmash, August 29, 1988
↑ Jim Henson's Red Book entry - November 6, 1987