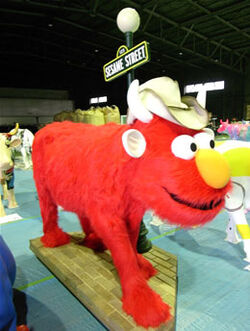 Sparked by a 1999 event in Chicago, CowParade has become an international concept where world cities have local artists decorate cow sculptures with unique patterns and murals. The goal of the program is making art accessible, and raising funds for local charities of choice.
CowParade Tokyo Marunouchi 2008 featured 73 sculptures, including one of Elmo, presented by Sesame Street Partners Japan. Elmo was inside an unknown building during the duration, in the "Marunouchi, Otemachi, Yurakucho district". The exhibit lasted from September 5 to October 19.
External links
Ad blocker interference detected!
Wikia is a free-to-use site that makes money from advertising. We have a modified experience for viewers using ad blockers

Wikia is not accessible if you've made further modifications. Remove the custom ad blocker rule(s) and the page will load as expected.