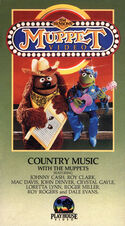 Country Music with the Muppets was released by Playhouse Video in 1985, as part of a series of compilations featuring songs and sketches from The Muppet Show.
It is hosted by Rowlf as a VJ at a fictitious country music video station, the name of which changes throughout the show. The show is hosted from a barn. Rowlf plays country music clips from The Muppet Show and takes requests from various barnyard animals who drop by.
Guest stars include Loretta Lynn, Roy Clark, Roger Miller, Crystal Gayle, Mac Davis, John Denver, Johnny Cash, Roy Rogers and Dale Evans.