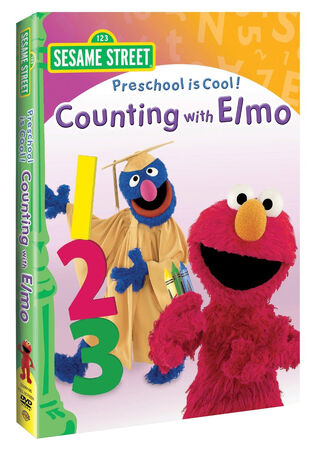 Counting With Elmo is a Sesame Street DVD starring Professor Grover and Elmo. The video is the second in the Preschool is Cool! series and was released in 2010.
In the video, Elmo and the preschool students help their fuzzy, blue teacher Grover remember which number is which. Within the story are two other stories from Season 40, "The Counting Booth" and "The Speckle-Sparkle Fairy Freckles."
Segments
Cartoon: Counting one duck
Song: "2, Me and You"
Animation: "Three is My Favorite Number"
Film: 4 kids dance in 4 blocks
Cartoon: "Go Down Emanuel Road"
The Count watches "Six Feet Under."
Cartoon: 7 cats
Film: 8 dancers in the park
Cartoon: Salty and Pierre look for the number 9.
Animation: 10 Russian nesting dolls
Animation: 10 flower pedals
Animation: Counting 10 things by 2s
Cartoon: Counting 20 Fish
Animation: Traction Jackson counts to 40.
Animation: 10 dancing kids (played during the credits)
Bonus Segment:
International releases
See also
Ad blocker interference detected!
Wikia is a free-to-use site that makes money from advertising. We have a modified experience for viewers using ad blockers

Wikia is not accessible if you've made further modifications. Remove the custom ad blocker rule(s) and the page will load as expected.