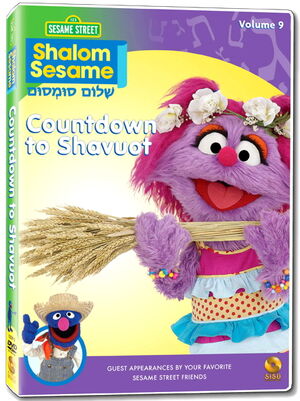 Countdown to Shavuot is the ninth episode from the 2010 version of Shalom Sesame.
"
It's Shavuot! Avigail and Brosh want to stay up all night just like the grown-ups. Will they be able to do it? They will certainly try with a little help from the dancing cow!
"
Segments
Cartoon: Healthy food song: Milk
Ben Stiller sings "The People in Your Neighborhood" with Telly, and decides that he'd like to be a person in the neighborhood. But does a cheese count as a person?
Film: A boy talks about the city of Zefat.
Cartoon: The cast stars in the story of Moses.
DVD Bonus