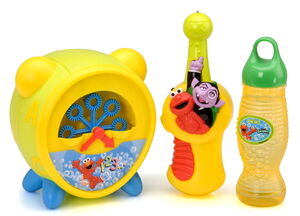 Count with Me Bubble Clock and Counting Wand is a Sesame Street toy made by Funrise Toys in 2009, as an exclusive at Target.
Elmo and the Count help children count up to 20. As the bubble machine blows bubbles, Elmo's voice is heard counting to 20; children can use the special Counting Wand to pop twenty bubbles.
Ad blocker interference detected!
Wikia is a free-to-use site that makes money from advertising. We have a modified experience for viewers using ad blockers

Wikia is not accessible if you've made further modifications. Remove the custom ad blocker rule(s) and the page will load as expected.