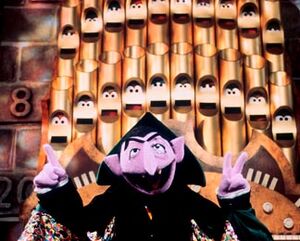 Count TV is a Sesame Street short-form series which debuted at MIPCOM in October 2010 and has since aired in foreign countries. Twenty-six episodes were produced at five minutes in length.
The series features Count von Count's recurring Number of the Day segments, followed by various animated, film and Muppet inserts from the Sesame Street library. Each episode ends with an animated Ernie and Bert performing a song and dance routine about the number (written by Cathi Rosenberg-Turow and Russell Velázquez).
Credits
See also
Ad blocker interference detected!
Wikia is a free-to-use site that makes money from advertising. We have a modified experience for viewers using ad blockers

Wikia is not accessible if you've made further modifications. Remove the custom ad blocker rule(s) and the page will load as expected.