The Count's Halloween Spooktacular
Talk

0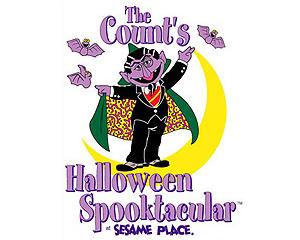 The Count's Halloween Spooktacular is an annual event held at Sesame Place during the month of October. The Halloween themed event was started in 1997 (originally tited "Halloween Fest"). The Count's Halloween Spooktacular is the last special event for the Sesame Place's season which is closed from November to May.
Guests are invited to visit the park dressed in costume, where there are trick-or-treating stops throughout the park for children (with treats donated by Tastykakes, Ring Pops, Peanut Chews, Herr's potato chips, cowtales and smarties). The festival offers some special attractions, including a "spooky" walk through Count's castle, an autumn hayride and the seasonal Countdown to Halloween stage show. The event features an annual costume contest and other special day events.
Many of the water attractions are closed and other parts have been reworked with a Halloween-theme, such as the tropical "Sesame Island" becoming "Halloween Hideaway".