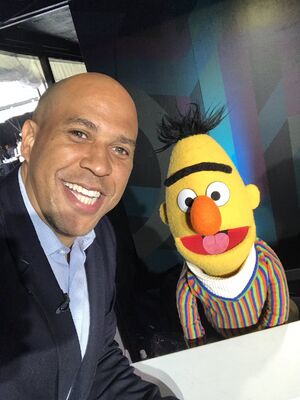 Cory Booker (b. 1969) is an American politician and the United States Senator from New Jersey, in office since 2013. Previously he served as mayor of Newark from 2006 to 2013.
Booker met Elmo at the Peabody Awards luncheon in 2010. Booker stopped by "The Mashable Show" at SXSW in 2017 to take a selfie and chat with Bert about 'freedom.'
External links
Ad blocker interference detected!
Wikia is a free-to-use site that makes money from advertising. We have a modified experience for viewers using ad blockers

Wikia is not accessible if you've made further modifications. Remove the custom ad blocker rule(s) and the page will load as expected.