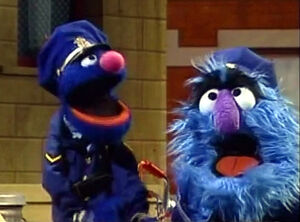 Cop Rock is a short-lived ABC series premiering in 1990. The series was unique in that it combined the genres of police drama with musical theatre, featuring original musical numbers in each episode.
References
In the Monsterpiece Theater sketch "ABCD Blue," police officers Grover and Herry help a group of citizens who have forgotten how the alphabet goes by singing "The Alphabet Song." As the scene concludes, Alistair Cookie remarks, "A singing cop show? Who writes this stuff?," referencing the fact that both Cop Rock and NYPD Blue share the same co-creator, Steven Bochco.
Ad blocker interference detected!
Wikia is a free-to-use site that makes money from advertising. We have a modified experience for viewers using ad blockers

Wikia is not accessible if you've made further modifications. Remove the custom ad blocker rule(s) and the page will load as expected.