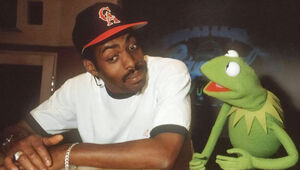 Artis Ivey, Jr., better known as Coolio (b. 1963) is a hip-hop artist, popular in the mid-1990s for such hits as "Fantastic Voyage" and "Gangsta's Paradise".
He guest-starred in episode 205 of Muppets Tonight. He performed a rousing rendition of "1, 2, 3, 4 (Sumpin' New)" with the Muppets as his finale.
Additionally, Kermit and Miss Piggy were among the many fictitious characters mentioned in Coolio's song "Ghetto Cartoon."
External links
Ad blocker interference detected!
Wikia is a free-to-use site that makes money from advertising. We have a modified experience for viewers using ad blockers

Wikia is not accessible if you've made further modifications. Remove the custom ad blocker rule(s) and the page will load as expected.