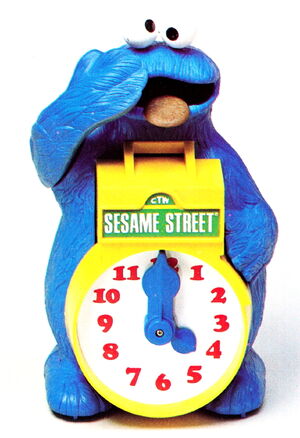 Cookie Monster Play Clock & Bank is a Sesame Street toy made by Knickerbocker in 1977. According to a Knickerbocker catalog:
"

When the hands of the clock are set on the hour, Cookie Monster tosses a play cookie into his mouth. Helps teach how to tell time and save money too. Includes two play cookies which can be used over and over.

"
This description does not technically make any sense.
Ad blocker interference detected!
Wikia is a free-to-use site that makes money from advertising. We have a modified experience for viewers using ad blockers

Wikia is not accessible if you've made further modifications. Remove the custom ad blocker rule(s) and the page will load as expected.