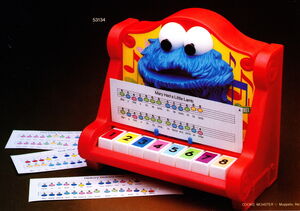 The Cookie Monster Piano was produced by Questor in 1976, under the Child Guidance label.
This upright piano is made of red plastic, with Cookie Monster's face emerging from the piano's frame. There are eight plastic keys, each numbered with a colorful sticker. When each key is pressed, a note is played and Cookie Monster's googly eyes spin around.
CBS Toys continued to produce the Cookie Monster Piano after they took over the Child Guidance label.
Ad blocker interference detected!
Wikia is a free-to-use site that makes money from advertising. We have a modified experience for viewers using ad blockers

Wikia is not accessible if you've made further modifications. Remove the custom ad blocker rule(s) and the page will load as expected.