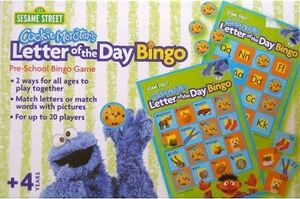 In 2003, Rose Art produced a Cookie Monster's Letter of the Day Bingo game set. This classic bingo game can be played using pictures or letters, and features chocolate chip cookies to mark off squares as they are called out. There are enough boards for up to 20 players, and each is decorated with a character such as Ernie or Cookie Monster.
Ad blocker interference detected!
Wikia is a free-to-use site that makes money from advertising. We have a modified experience for viewers using ad blockers

Wikia is not accessible if you've made further modifications. Remove the custom ad blocker rule(s) and the page will load as expected.