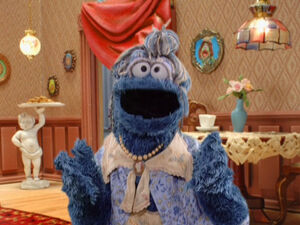 Cookie Monster's Grandma appears in the Sesame Beginnings DVD series.
Sesame Workshop press release
Cookie Monster's Grandma takes great pleasure caring for little Cookie Monster. They have a very warm and loving relationship. She helps Cookie Monster's parents out by watching him during the day and cares for her grandson with old-fashioned monster values. She has a hard time keeping up with her energetic grandson but enjoys his enthusiasm. She has endless patience. Grandma Cookie Monster loves her show tunes and sounds a lot like Ethel Merman.
Trivia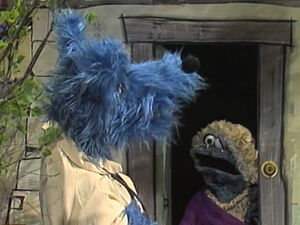 Cookie Monster's Grandma appeared in a Sesame Street News sketch in 1979 as Little Red Riding Hood's granny, performed by Cheryl Blaylock. Cookie's grandma also made an appearance in a Monsterpiece Theater story, Little Red Riding Cookie, performed by David Rudman. These could be different grandmothers than the one who appears in Sesame Beginnings.
See also