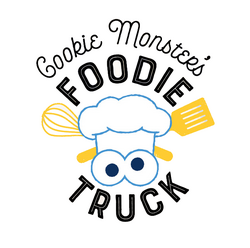 Cookie Monster's Foodie Truck (also referred to as "Monster Foodies") is a five-minute Sesame Street segment featured during season 48. Thirteen segments were produced for the season.
The segments star Cookie Monster and Gonger (from The Furchester Hotel), working in their own food truck and fielding orders from live children via video message. To complete their recipe, the monsters drive the truck to a specific location and learn about where certain foods originally come from.

Segments
Season 48

Picture
Description

Apples (First: Episode 4801)

Cookie and Gonger visit an apple orchard to complete their recipe for apple pie.

Cranberries (First: Episode 4802)

While completing an order of cranberry muffins, the monsters observe how cranberries are harvested from a cranberry bog.

Oatmeal (First: Episode 4804)

Cookie and Gonger drive to the oat factory to complete a recipe for porridge. Baby Bear makes a brief cameo.

Pineapples (First: Episode 4805)

While making a part-pineapple pizza, Cookie learns that pineapples come from a farm, not from sticking a pinecone with an apple.

Grapes (First: Episode 4808)

Since Cookie has eaten all the grapes needed for a fruit salad, Gonger takes the truck to the vineyard for more.

Avacados (First: Episode 4811)

The Monster Foodies need some avocados to complete a tunafish sandwich.

Angel Hair Pasta (First: Episode 4812)

Cookie and Gonger visit the pasta factory to replace all the pasta Cookie has eaten for their next order.

Onions (First: Episode 4813)

Cookie has eaten all the onions, giving him bad breath, so they venture off to get more to complete an order of succotash.

Tortillas (First: Episode 4816)

The monsters visit a factory where bread is made into taco shells.

Maple Syrup (First: Episode 4821)

A young boy orders some pancakes, but the monsters travel to get some syrup in order to complete the dish.

Eggs (First: Episode 4824)

Cookie and Gonger visit a farm to get eggs for a birthday cake, which turns out to be for Cookie Monster himself.

Honey (First: Episode 4826)

The Monster Foodies help Gonger's grandmother by baking her buttermilk biscuits, but they need some honey to complete the recipe.

Milk (First: Episode 4828)

Cookie and Gonger need to get milk to make some fruit smoothies.
Production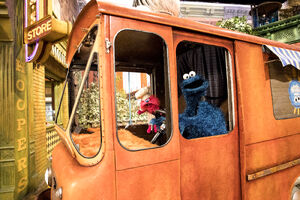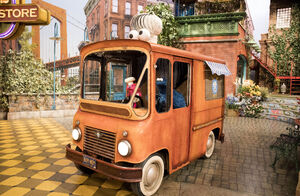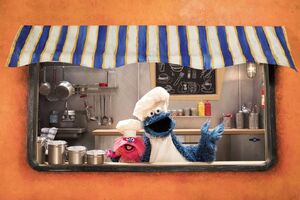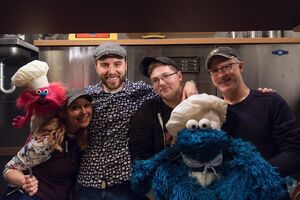 The segment was originally conceived by Warrick Brownlow-Pike, performer of Gonger, during the production of The Furchester Hotel. In an interview with Tough Pigs, he detailed:
"

When David Rudman was around on the Furchester and Cookie Monster and Gonger got together, everybody found it hilarious. And as we got to the end of the run of The Furchester, I decided we needed to keep the duo going. So I started to develop an idea for them, I thought maybe they could be delivery people who deliver food from The Furchester Hotel kitchen. That kind of moved on to the idea of Cookie Monster and Gonger having their own food truck, and they can serve food from the truck. I developed this idea with Carol-Lynn Parente, who was the Producer of 'The Furchester Hotel', and we wrote a 5-minute script. There was a food truck outside the studios where we were shooting in Manchester that was open at lunch time. So I asked the owner if I could use his truck for an hour and gave him some money and he gave me his van for an hour, and we shot a pilot with myself and David Rudman on iPhones, and that's what helped us sell the show. This idea then merged into what you see in Season 48 of Sesame Street which is 'Cookie Monster's Foodie Truck'.[1]

"
The segments are shot from three different perspectives: exterior shots using the whole truck on the street set, a raised set of the inside of the truck[1] and the on-location footage of both the Foodie Truck's travels and the various food locations.
Elements of the segment were directed by Alan Muraoka[2] and Marilyn Agrelo.[3] The foodie truck was designed by David Gallo and built by Scenic Art Studios.[4]
In promotion for the segment, the Foodie Truck was brought to the Metrograph theater in New York City on November 9, 2017 at a screening for The Magical Wand Chase. A smaller, two-dimensional version of the truck, playing footage from the "Foodie Truck" segments, is used at malls during the F is for Friends pop-up tour.
Notes
A slightly dilapidated, vine-covered version of the Foodie Truck is seen in the background of "Snack-Side Down" in the show's 2017 viral video spoof of Stranger Things.
Sources
↑ 1.0 1.1 Tough Pigs: "Gabbing with Gonger: Interview with Warrick Brownlow-Pike," April 16, 2018.

__NOWTYSIWYG__