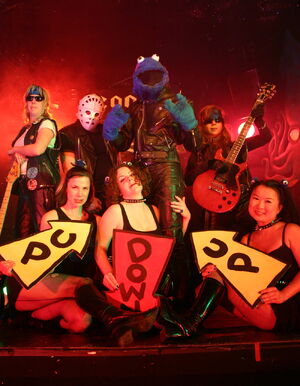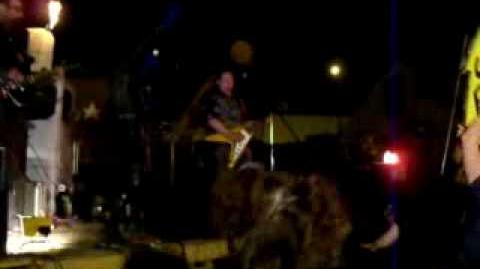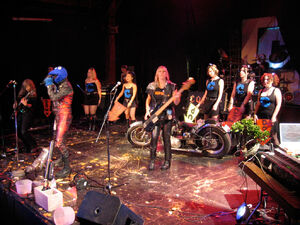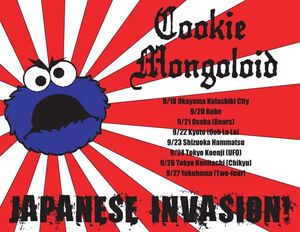 Cookie Mongoloid is a "Sesame Speed Metal" band based in San Francisco, an offshoot of the Devo tribute band Mongoloid. The band first appeared as "Cookie Mongoloid" in 2002, playing metal spoof cover versions of Sesame Street songs, including "C Is for Cookie", "Up and Down", and "Me Lost Me Cookie at the Mosh Pit".
According to the band's official "bio" on MySpace:[1]
"

The Cookie Mongoloid is the blue and black sheep of the family that spawned that more famous cookie fanatic. Growing up in the shadow of his beloved cousin, watching the lovable good-natured monster rise effortlessly to stardom, the mal-adjusted Cookie Mongoloid grew despondent and bitter...

"
Mongoloid lead singer "Loid Mongoloid" discovered the monster in 2002, living on the streets:
"

Living on San Francisco's wretched skid row 6th Street on a diet of freebased cookie bits, the mongoloid was a far cry from the cheerful star of childrens television. Inspired by "mongoloid", Devo's anthem of alienation and mutation, Loid convinced Cookie to channel his angst and obsessive nature into a compelling musical endeavour.

"
On stage, the lead singer wears a Cookie Monster mask and gloves, and sings and speaks with Cookie Monster's voice. The band also features Lisafer on guitar, Crüeller on bass, and "cRumb on dRumbs".
The band is backed by "a harem of gothic gyrators, the Cookies, [who] demonstrate such elemental concepts as up and down in a blaze of lights, smoke and pyrotechnic cookie shrapnel."[2]
The band's cover of the "Sesame Street Theme" is called "Sechste Straße (6th Street)", a reference to a notoriously run-down San Francisco neighborhood. Taking an irreverent approach to the Sesame Street source material, Cookie Mongoloid sings:
Gloomy day
If you've gone astray
Come to where
The lost souls lay
Tell me how to get to 6th Street
Tell me how to get to... 666
The band has played periodic gigs through 2011, often around the Halloween season, and has been well-reviewed by local publications in San Francisco and Portland. SF Weekly named Cookie Mongoloid the "Best Concept Band" in 2004: "Cookie Mongoloid is the ultimate in Sesame Street violation. It's all your favorite childhood songs... souped up and turned out by homicidal maniacs armed with cookie cannons."
The band also had a two-week tour in Japan in 2006.
Blood and Cookies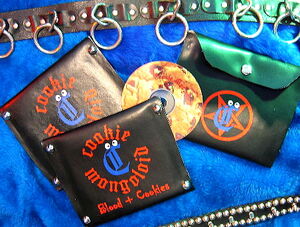 The band released a self-published album, Blood and Cookies, in 2005; the CD looked like a chocolate chip cookie, and was sold in a studded leather-bound case.
The tracklist:[3]
1. "C Is for Cookie" (4:24)
2. "Sechste Straße (6th Street)" (2:21)
3. "Up and Down" (4:10)
4. "Wash Yourself" (live) (2:47)
5. "666" (2:10)
7. "One of These Things" (live) (4:15)
8. "Fuzzy and Blue (Bloody and Blue)" (3:30)
Sources
↑ Cookie Mongoloid, Myspace page, 2005.
↑ "Cookie Mongoloid - Blood and Cookies", Metal-archives.com
External links