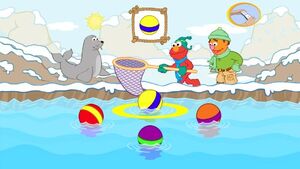 Cookie's Counting Carnival is a Sesame Street video game released on October 19, 2010 from Warner Bros. Interactive Entertainment for the Wii, the Nintendo DS and the PC.
The Wii version comes packaged with a Cookie Monster "gameplay helper", a soft plush cover for the Wiimote that hides unnecessary buttons from the preschool player's busy fingers. The DS version comes with a special stylus.
Description
A press release describes the game:
"

In Sesame Street: Cookie's Counting Carnival, kids join Cookie Monster and Big Bird at a fun-filled carnival through gameplay steeped in math skills that include number identification, counting, shapes and pattern recognition. Kids journey through the game in the many areas of the carnival such as The Grandstand, Midway, Petting Zoo, Food Court and the Arcade.[1]

"
Sources
See also
External links
Ad blocker interference detected!
Wikia is a free-to-use site that makes money from advertising. We have a modified experience for viewers using ad blockers

Wikia is not accessible if you've made further modifications. Remove the custom ad blocker rule(s) and the page will load as expected.