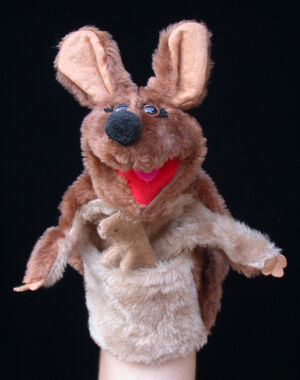 The Continental Bank kangaroo puppet is a premium created by Henson Associates for Continental Bank. The slogan of the Chicago-based bank was "It's the big bank with the little bank inside", and a kangaroo (representing the Big Bank) and joey (Little Bank) had long served as mascots for the bank.
Sometime around 1975, Jim Henson agreed to create a puppet version of the mascots. Bank customers could order the puppet for free when depositing $300 or more into a new or existing account.
The puppet was manufactured by Knickerbocker. The mother kangaroo has a moveable mouth and arms, and the joey is an independent finger puppet that can be operated through a hole in the pouch. This puppet is a rare early example of Henson creating a consumer puppet not based on an actual Muppet.
Ad blocker interference detected!
Wikia is a free-to-use site that makes money from advertising. We have a modified experience for viewers using ad blockers

Wikia is not accessible if you've made further modifications. Remove the custom ad blocker rule(s) and the page will load as expected.