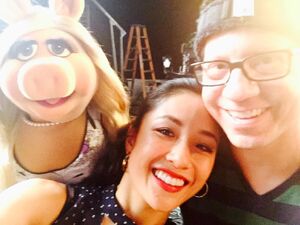 Constance Wu (b. 1982) is an American actress most well known for playing Jessica Huang in the ABC comedy Fresh Off the Boat. She has also appeared in The Architect (with Viola Davis), Law & Order: Special Victims Unit, the Doctor Who spin-off Torchwood, and the soap opera One Life to Live.
In August 2015, she and her Fresh co-star Randall Park appeared in a promotional spot for The Muppets. They're joined by Gonzo who has timing trouble delivering his lines.
Ad blocker interference detected!
Wikia is a free-to-use site that makes money from advertising. We have a modified experience for viewers using ad blockers

Wikia is not accessible if you've made further modifications. Remove the custom ad blocker rule(s) and the page will load as expected.