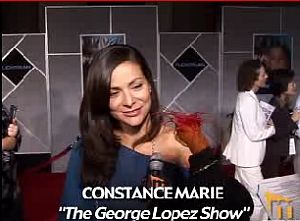 Constance Marie (b. 1965) is an actress who played Angie Lopez on the sitcom George Lopez (2002-2007). She was also a regular on the PBS drama American Family and more recently on Switched at Birth.
In 2005, she was interviewed by Pepe the King Prawn on the red carpet of Flightplan for episode 8 of From the Balcony.
Marie's film credits include Selena (as Selena's mother), My Family, Mi Familia, and Tortilla Soup.
External links
Ad blocker interference detected!
Wikia is a free-to-use site that makes money from advertising. We have a modified experience for viewers using ad blockers

Wikia is not accessible if you've made further modifications. Remove the custom ad blocker rule(s) and the page will load as expected.