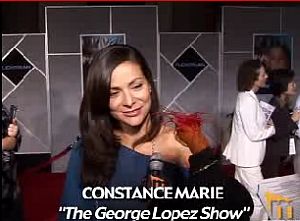 Constance Marie (b. 1965) is an actress who played Angie Lopez on the sitcom George Lopez (2002-2007). She was also a regular on the PBS drama American Family and Switched at Birth.
In 2005, she was interviewed by Pepe the King Prawn on the red carpet of Flightplan for episode 8 of From the Balcony.
Marie's film credits include Selena (as Selena's mother), My Family, Mi Familia, and Tortilla Soup.
External links