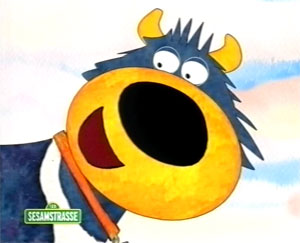 Connie the Cow has been shown as the last segment in Sesamstrasse from 2007.
The show was made by animation studio Neptuno Films in Spain. It was dubbed in English in the UK and has aired on Noggin in the U.S.
The segment has also been broadcast as a mini-series on the Spanish network, V-me.
Ad blocker interference detected!
Wikia is a free-to-use site that makes money from advertising. We have a modified experience for viewers using ad blockers

Wikia is not accessible if you've made further modifications. Remove the custom ad blocker rule(s) and the page will load as expected.