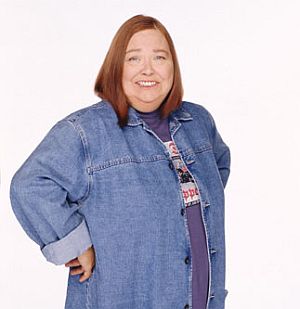 Conchata Ferrell (b. 1943) is an Emmy Award nominated character actress currently playing Berta on the CBS sitcom Two and a Half Men. Ferrell supplied the voice for Shelly on the Creature Shop television series Dinosaurs, in the episode "Dirty Dancin'".
Ferrell's other small screen credits include playing Susan Bloom on L.A. Law, and guest appearances on The Love Boat, Buffy the Vampire Slayer, Maude, Shelly Duvall's Faerie Tale Theatre, and ER. Film credits include Tim Burton's Edward Scissorhands, Freeway (with Brooke Shields), and Erin Brockovich (with Julia Roberts).
Ferrell voiced a character in Disney and Tim Burton's feature film Frankenweenie.
External links
Ad blocker interference detected!
Wikia is a free-to-use site that makes money from advertising. We have a modified experience for viewers using ad blockers

Wikia is not accessible if you've made further modifications. Remove the custom ad blocker rule(s) and the page will load as expected.