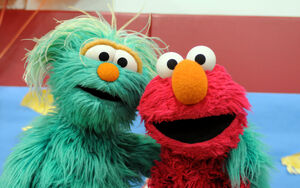 Coming Home is a reality series that ran for two seasons on the Lifetime network. Hosted by Matt Rogers, the series focuses on family reunions that occur as U.S. military personnel return home from active duty overseas.
Elmo and Rosita appeared in the sixth episode of the second season on June 1, 2012. A few clips from Talk, Listen, Connect: Deployments are featured during the show.
See also
External links
Ad blocker interference detected!
Wikia is a free-to-use site that makes money from advertising. We have a modified experience for viewers using ad blockers

Wikia is not accessible if you've made further modifications. Remove the custom ad blocker rule(s) and the page will load as expected.