Ad blocker interference detected!
Wikia is a free-to-use site that makes money from advertising. We have a modified experience for viewers using ad blockers

Wikia is not accessible if you've made further modifications. Remove the custom ad blocker rule(s) and the page will load as expected.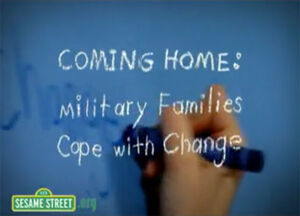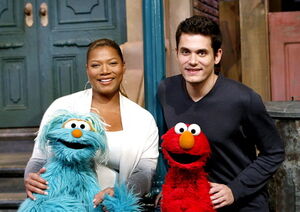 Coming Home: Military Families Cope with Change is a television special produced by Sesame Workshop as part of the Talk, Listen, Connect initiative. The special premiered on PBS on April 1, 2009.
The special, hosted by Queen Latifah and John Mayer, is a follow-up to the 2006 television special "When Parents Are Deployed", hosted by Cuba Gooding, Jr. The special was designed to educate adults about the issues and effects of military parents homecomings and associated changes.
In the special, Mayer sings a variation of his song "Say (What You Need to Say)" with the Muppets of Sesame Street.
Sesame Workshop produced the half-hour special in association with David Letterman's production company Worldwide Pants Inc. and Lookalike Productions.
Cast
Crew
Executive Producers: Lisa Lax, Nancy Stern, Christina Delfico, Rob Burnett, David Letterman
Supervising Producer: Valerie Schaer
Directed by: Jerry Foley
Written by: Christine Ferraro
Producers: Kevin Clash, Andrew Ames
Associate Director: Ken Diego
Production Designer: Victor DiNapoli
Technical Director: Tom Guadarrama
Jim Henson's Muppet Workshop: Jason Weber, Connie Peterson, Rollie Krewson, Michelle Hickey, Lara MacLean, Chelsea Carter, Andrea Detwiler
See also
Sources
External links