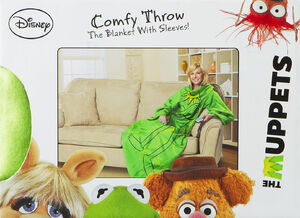 Official Description: Let Kermit the Frog keep you warm and happy this winter season with this super soft fleece throw from The Muppets. You'll enjoy the comfy, warm feeling of being completely surrounded in a blanket, and still have the freedom to use your hands. It's the blanket with hands!
See also
Ad blocker interference detected!
Wikia is a free-to-use site that makes money from advertising. We have a modified experience for viewers using ad blockers

Wikia is not accessible if you've made further modifications. Remove the custom ad blocker rule(s) and the page will load as expected.