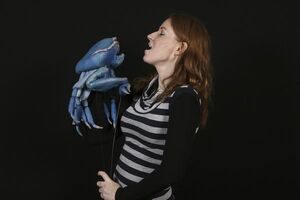 Colleen Smith (b. August 30, 1979) is an actress, comedian and puppeteer. Smith has performed with The Jim Henson Company's Puppet Up! - Uncensored stage show in Hollywood, and performs in the opening shows of Stuffed and Unstrung in New York. Smith performed Cashmere Ramada on the Henson Alternative game show Late Night Liars and was also a performer on Neil's Puppet Dreams, That Puppet Game Show and No, You Shut Up!. She was an uncredited puppeteer for the ABC show, The Muppets.[1]
Smith was a regular correspondent on The Showbiz Show with David Spade; her other television credits include The Office, World Cup Comedy, The Singles Table, Carpoolers, and King of the Hill.
Sources
External links
Ad blocker interference detected!
Wikia is a free-to-use site that makes money from advertising. We have a modified experience for viewers using ad blockers

Wikia is not accessible if you've made further modifications. Remove the custom ad blocker rule(s) and the page will load as expected.