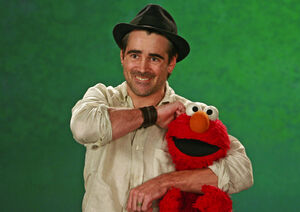 Colin Farrell (b. 1976) is a film actor known for his roles in Tigerland, Phone Booth, The New World and Miami Vice.
Farrell appeared on Sesame Street in season 41, presenting the word "investigate" as the Word of the Day. He told The New York Post:
"

I did a scene with Elmo and a couple of the other characters. The word of the day was "investigation." We did a scene with a couple of talking carrots and s--t. It was genius![1]

"
Farrell also appeared in a video promoting aniBOOM Awards 4 Sesame Street's voting round.
Sources
↑ Sara Stewart, "Colin Farrell rekindles his career with intimate work and a simpler life", New York Post, May 30, 2010.
External links
Ad blocker interference detected!
Wikia is a free-to-use site that makes money from advertising. We have a modified experience for viewers using ad blockers

Wikia is not accessible if you've made further modifications. Remove the custom ad blocker rule(s) and the page will load as expected.