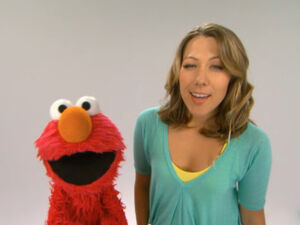 Colbie Caillat is an American pop singer and songwriter who has won Grammy Awards for her collaborations with Jason Mraz and Taylor Swift.
Calliat was interviewed in "Kermit and Pepe at the Grammy Awards", a 2009 segment on Disney Xtreme Digital.
Caillat performed at Elmo's Red Tie Ball, a fundraising event, then sang with Elmo at the 2011 White House Easter Egg Roll. She appeared during the 43rd season of Sesame Street singing "Belly Breathe" with Common.
External links
Ad blocker interference detected!
Wikia is a free-to-use site that makes money from advertising. We have a modified experience for viewers using ad blockers

Wikia is not accessible if you've made further modifications. Remove the custom ad blocker rule(s) and the page will load as expected.