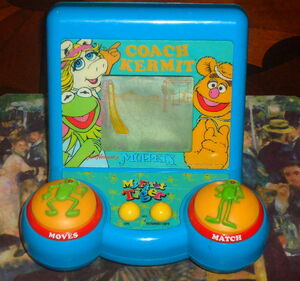 Coach Kermit is a handheld game made by Tiger Electronics in 1994, in their "My First Tiger" line for 3-5 year olds. The player tries to match Kermit's moves as he exercises. The soundtrack includes some voice clips, including Miss Piggy saying, "I love to exercise!"
Tiger's first Muppet handheld, Street Surfin', was produced in 1990.
The company was acquired by Hasbro in 1998.
Ad blocker interference detected!
Wikia is a free-to-use site that makes money from advertising. We have a modified experience for viewers using ad blockers

Wikia is not accessible if you've made further modifications. Remove the custom ad blocker rule(s) and the page will load as expected.