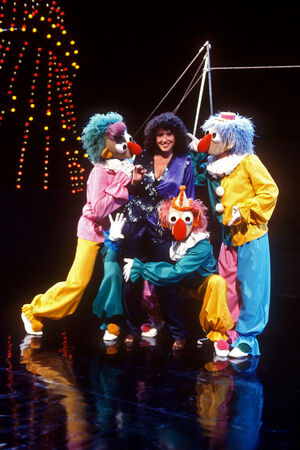 Three full-bodied Muppet Clowns appeared on episode 205 of The Muppet Show, dancing behind guest star Judy Collins as she sang "Send in the Clowns." Each clown has different colored shaggy hair: one blue, one green, and the other red.
The dancing clowns also appeared in episode 512, where they were joined by a small clown puppet dancing on a high wire in "We Don't Cry Out Loud".
Other clowns
See also
Ad blocker interference detected!
Wikia is a free-to-use site that makes money from advertising. We have a modified experience for viewers using ad blockers

Wikia is not accessible if you've made further modifications. Remove the custom ad blocker rule(s) and the page will load as expected.