Written by
Joe Raposo
Date
1972
Publisher
Muppet-Jonico Publishing Co.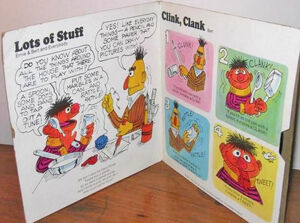 "Clink, Clank" is a Sesame Street song sung by Bert and Ernie. Bert has discovered how he can use pans, silverware, marbles and whistles to make a fantastic chorus of "Clink, Clank, Rattle, Tweet". Ernie joins him partway through the song, adding in an occasional "honk" as well.
The song was performed by Bert and Ernie on Episode #35 of The Flip Wilson Show.
Releases
Audio
See also
Ad blocker interference detected!
Wikia is a free-to-use site that makes money from advertising. We have a modified experience for viewers using ad blockers

Wikia is not accessible if you've made further modifications. Remove the custom ad blocker rule(s) and the page will load as expected.